Instructor

: Elsa Nielsen

Lectures

: 29

Quizzes

: 1

Students

: 2441

Duration

: 10 weeks
A business analyst is someone who analyzes information and investigates the goals and issues of a company. They advise organizations on how to improve their efficiency and finances. They are responsible for figuring out the actual needs of the company, not simply the stakeholder's expressed wishes. They will communicate with a wide variety of people, such as the staff, the executives, the IT department and the customers in order to evaluate the situation fairly and define any and all issues. Quite often, the business analyst will be a facilitator and help the communication between the organization's departments. They will then document their findings, evaluate and present their solutions.
Free Certification
Academy Europe presents high-quality formal diplomas, certificates and e-certificates which are formal proof and recognition of accredited online courses. It shows all student's abilities to learn and achieve high results and is very useful to promote personal career including with CVs, job applications and self improvements.
How can you get your certificate at Academy Europe?
You must click "complete" link at the end of every lesson of your course after you finish them.
When you finish all lessons of course, the "finish course" link is going to be active at the end of last lesson.
When you click the "finish course" link, you will finish your course on Academy Europe officially. Then, "certificate" page of you completed course will be automatically active.
You can see and download your certificate online after you click on your "certificate" link.
Samples: Horizantal Diploma – Horizantal Certificate – Vertical E-Certificate
Prerequisites
The basic knowledge of Graphical User Interface, Object Oriented Programming and software tools and menus are the only prerequisite for this tutorial.
Before you start proceeding with this course on Academy Europe, we are assuming that you have a good aptitude and can think logically. You should want to try something different.
Ideal candidates for the course would typically possess:
– Discipline and attentiveness
– Ability to conduct research
– Ability to perform tasks with speed, efficiency, and accuracy
– Analytical judgment
– Patience to interpret technical/scientific data
– A willingness to learn, roll up your sleeves and work toward your dream!
– A computer, tablet or smartphone and an internet connection
– Basic computer skills
Audience
This tutorial has been intended for the users willing to take the human computer interactions as a next level of study in their career.
This course by Academy Europe aims at imparting quality education and training to students.
Academy Europe is dedicated to its students, their specific learning requirements, and their overall learning success.
This course is directed toward a student-centered, independent study, asynchronous learning approach.
After completing this course on Academy Europe, students will get self improvement  and promotion in their careers.
This course is based on at least two learning skills which are provided  to the users through audio & visuals, videos, verbal presentations and articles, all of which are asynchronized with distance education approach.
What does a Business Analyst do?
A business analyst will spend a good part of their time doing research and asking many questions, and this is done so that the analyst can understand the particular project fully and look for any solution options. Business analysts are skilled communicators, and know how to listen to verbal as well as non-verbal messages, engage in open dialogue and communicate what they've learned to the appropriate parties.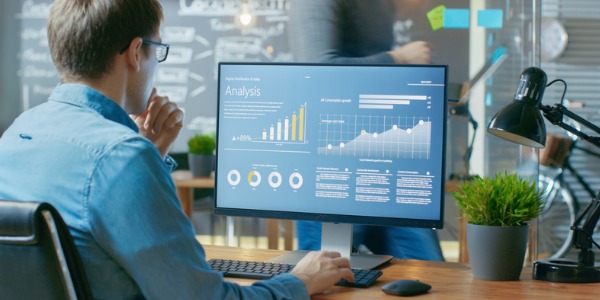 Analyzing the information gathered is a big part of the job. The information needs to be studied for any patterns and trends, and reviewed to make sure it is as current and accurate as it can be. The business analyst must then take the results of any observations and analysis and needs to document them as either text or in the form of graphs, charts or illustrations. Since there can oftentimes be more than one solution, there needs to be considerable time spent comparing and analyzing solutions. The chosen solution is still heavily evaluated throughout the design and implementation period in order to ensure that it continues to meet the needs of the business and that the best implementation process is chosen.
Introduction to Business Analysis

Who is a Business Analyst?

Stakeholder Analysis & Mapping with Template Example

Lifecycles

Software Development Lifecycles

Software Engineering Methods

General SDLC plus Waterfall Model

Rapid Software Development (RAD)

Requirements Process

Learn software requirements analysis with case study

Requirements Analysis and Transformation Techniques

What is a Functional Requirement? Specification, Types, EXAMPLES

What is Non-Functional Requirement? Types and Examples

Functional Requirements vs Non Functional Requirements: Key Differences

Managing Requirements Assets

Documentation

Quality Assurance

UAT (User Acceptance Testing)

Impact Analysis in Software Testing

The complete Process

Business Analysis process

Business Analyst Interview

Entity Relationship Diagrams

Business Analyst Interview Questions & Answers

Software Configuration Management Tutorial

BEST Software Configuration Management Tools

Completion of Course