Instructor

: Drishya Gupta

Lectures

: 5

Students

: 327

Duration

: 10 weeks
Taj Mahal is one of the most popular monument in India and the world. People from far off places come to visit the monument. It was built for the commemoration of Mumtaz Mahal, the beloved wife of Shah Jahan. In this course by Academy Europe, we will provide a brief description about Taj Mahal along with its history and other aspects.
Free Certification
Academy Europe presents high-quality formal diplomas, certificates and e-certificates which are formal proof and recognition of accredited online courses. It shows all student's abilities to learn and achieve high results and is very useful to promote personal career including with CVs, job applications and self improvements.
How can you get your certificate at Academy Europe?
You must click "complete" link at the end of every lesson of your course after you finish them.
When you finish all lessons of course, the "finish course" link is going to be active at the end of last lesson.
When you click the "finish course" link, you will finish your course on Academy Europe officially. Then, "certificate" page of you completed course will be automatically active.
You can see and download your certificate online after you click on your "certificate" link.
Audience
This course is designed for the people who would like to know about the history of the Taj Mahal along with the interiors and design of the monument. This beautiful monument is visited by many people from India and abroad.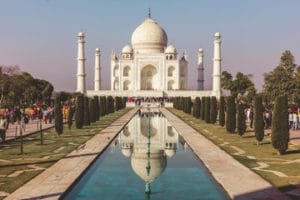 Prerequisites
This is a brief course designed only for informational purpose. There are no prerequisites as such. All that you should have is a keen interest to explore new places and experience their charm.
Taj Mahal - Overview

Taj Mahal - History

Taj Mahal - Architecture and Design

Taj Mahal – Architecture and Design

Taj Mahal - How to Reach?

Taj Mahal – How to Reach?

Taj Mahal - Nearby places

Taj Mahal – Nearby places