Instructor

: Angela Palmer

Lectures

: 11

Students

: 1329

Duration

: 10 weeks
This course explains the semiconservative replication of DNA and the role it plays in the cell cycle. The phases of the cell cycle and mitosis (prophase, metaphase, anaphase, and telophase), as well as the regulatory mechanisms associated with cyclins and their antagonists, are all relevant topics in medical exams.
Table of Contents
The Cell Cycle
Apoptosis
Semiconservative Replication of DNA
Synthesis at the End of Chromatin: Telomeres and Aging
Review Questions
---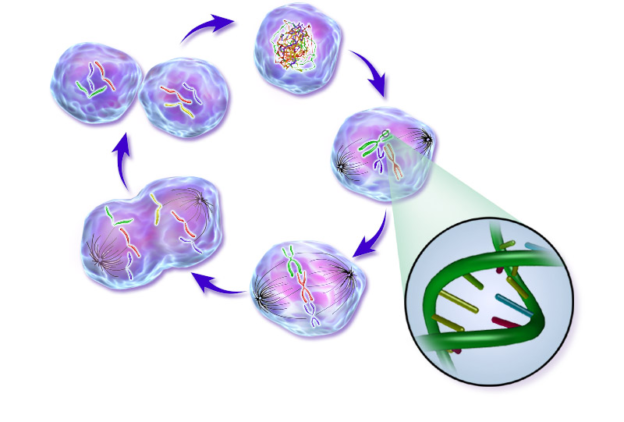 Free Certification
Academy Europe presents high-quality formal diplomas, certificates and e-certificates which are formal proof and recognition of accredited online courses. It shows all student's abilities to learn and achieve high results and is very useful to promote personal career including with CVs, job applications and self improvements.
How can you get your certificate at Academy Europe?
You must click "complete" link at the end of every lesson of your course after you finish them.
When you finish all lessons of course, the "finish course" link is going to be active at the end of last lesson.
When you click the "finish course" link, you will finish your course on Academy Europe officially. Then, "certificate" page of you completed course will be automatically active.
You can see and download your certificate online after you click on your "certificate" link.
Samples: Horizantal Diploma – Horizantal Certificate – Vertical E-Certificate
Audience
The medical course by Academy Europe aims at imparting quality education and training to students to help contribute to the growing sector of health and medicine.
Different institutes have different cut off marks, however, the selection is made on the basis of the entrance exams conducted either on the national level or by individual institutes.
After completing this medical course on Academy Europe , students will get self improvement  in capacities of a practicing doctor, general physician, surgeon, medical officer, dietician, lecturer, nursing etc.
Prerequisites
Before you start proceeding with this course, we are assuming that you have a good aptitude and can think logically. You should want to help patients and want to try something different.
Students who have a keen interest in learning the basics of the Medical Sciences, its workings and also the diagnosis of human bodies, should opt for this course. This course has a structure which develops a person's psyche towards the feelings of service and ailment of the sufferers of various diseases. The students, after doing this course, also become an active participant in the community as they are always ready to help the ones in need through their medical practices.
Any student who wishes to have a career in the medical field, be it a surgeon, a medical director, a specialist like a gynecologist or an anesthetist, etc. should consider this as the best field of study because this gives an introduction to all the discourses in detail.
The Syllabus on Medical Education
Pre-Clinical >> Anatomy, Bio-Chemistry, and Physiology: Basic knowledge to understand the various structures in the body; the molecular organization of the cell; and the functioning of the organs in the body.
Para-Clinical >> Community Medicine, Forensic Medicine, Pathology, Pharmacology, Microbiology, Clinical postings inwards and OPDs: Awareness of the medico-legal and medical practices involved in crimes; understanding of the infectious diseases; understanding the concepts of cell injury and body's capacity of healing; understanding the principles of pharmacology involved in the use of drugs.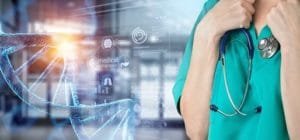 Clinical >> Community Medicine, Medicine and allied subjects (Psychiatry, Dermatology) Obst., Gynae, Pediatrics Surgery and allied subjects (anesthesiology, ENT, Ophthalmology, Orthopedics) and clinical postings: Understanding the use of anesthesia; to encourage the student to work effectively as a community physician, diagnose and manage common skin diseases; acquire skills for a general practitioner; understanding the common problems of the eye, the musculoskeletal system, ear, nose and throat problems and the development of children, etc.

Job Profiles for Medical Education
Candidates who wish to work can opt for any of the below-mentioned job profiles:
Doctor: Doctors are responsible for performing health tests, running diagnosis, treating patients and prescribing medicines to them.
Private Practitioner: Private practitioners provide private services to their patients related to health, mental issues, and many other things.
Public Health Specialist: They analyze and develop programs to improve the health of people. PHSs find opportunities in government as well as private sectors.
Pharmacist: A pharmacist owns a pharmacy and interprets a doctor's prescription. A pharmacist also detects therapeutic incompatibilities.
Lab Executive: Lab Executive is responsible to maintains medical laboratory equipment and tools, performance through establishing a quality standard; troubleshooting procedures, quality, developing an operation, certifying instrument performance, ensuring staff compliance arranging equipment and tools replacements, repair and service.
Medical Transcriptionist: Medical Transcriptionist is responsible for listening to the recorded matters of a physician or any other healthcare experts. Interpret and transcribe the oral work into diagnostic test result, referral letters, operative reports and other documents.
Medical Examiner: Medical Examiner is responsible for specialized training in forensic pathology. They also perform inspect organs and autopsies organs, tissue, and bodily liquids to examine the reason for death.
Clinical Manager: Clinical Manager is in charge for managing clinical, administrative, professional, and clerical staff; overseeing the recruitment, development, managing day-to-day management; and appraisal of staff; developing and implementing rules and regulations and directives; attending meetings and setting and monitoring budgets.
Medical Officer: The job profile focuses on providing medical care to the employees who get ill at work.
General Physician: The general physician treats the patients on a very primary level.
Healthcare Research and Consultant: The consultant has the job of business analysis and management consultancy.
Surgeon: The surgeon's job is to perform surgery. It is a specialized job.
Medical Superintendent: A medical superintendent is supposed to supervise the workings in a medical organization.
Dietician: The job of a dietician or a nutritionist includes preparing diet charts for the patients and keeping a track of the same.
Physiotherapist: To help patients suffering from difficulties with physical movement resulting from illness, injury, disability, or aging. To improve their movement, and devise and review treatment programs using manual therapy (such as massage), therapeutic exercise, and electrotherapy.
Lecturer: To teach at undergraduate and graduate levels in areas allocated and reviewed from time to time by the Head of Department.
Researcher: They work with other team members to identify project goals, research methods, and other test parameters. Researchers also offer recommendations on improving the techniques used.
Osteopath: They treat patients by stimulating different areas of the body using a wide range of physical techniques such as touching, stretching, and massaging. The aim of these techniques is to increase the blood flow to the different parts of the body and facilitate obstructed movement.
Consultant: They provide services directly to doctors or healthcare facilities, working for organizations, providing medical-consulting services.
R&D Lab Technicians: (R&D) lab technicians are responsible to work in a research facility setting, leading tests to guarantee that items are being tried effectively. They are responsible for gathering information, keeping precise records, and ensuring records are documented effectively.
Technical executives: Technical executives are in charge to manage and coordinate every single specialized operation for an association.
Medical technicians: Medical technicians, additionally alluded to as restorative lab professionals are responsible to perform essential lab techniques, for example, testing examples and recording comes about. These people may have some expertise in a field, for example, atomic science.
X-Ray Technician: X-Ray Technician is in charge of working the medicinal gear used to catch inside pictures of patients' bodies.
Lab Technician: Lab Technician is responsible to work in labs. Lab Technician work in different settings which incorporate social insurance, industry, look into, and instructive establishments. Lab specialists may work in a wide assortment of fields, for example, solution, science, science, gadgets, geography and the earth.
Category Manager: A Retail Category Manager is an in-store in-charge of visually promoting, evaluating, administering, and offering a specific kind of therapies. Retail Category Managers manage the in-store merchandise.
Medical Representatives: Medical Representatives are the key thread of contact amongst pharmaceutical and restorative organizations and social insurance experts.
Nursing In-charge: Managing, communicating, supervising and assisting the subordinate staff in carrying out the administrative duties.
Nursing Assistant: Delivering their duties of patient care on daily basis, supervising over the workings of other staff, assisting in daily workings of the administration.
The Cell Cycle

Regulation of the Cell Cycle

Apoptosis

Extrinsic Signaling Pathway of Apoptosis

Intrinsic Signaling Pathway of Apoptosis

Perforin/Granzyme Pathway of Apoptosis

Semiconservative Replication of DNA

Semiconservative Replication of DNA

Synthesis at the End of Chromatin: Telomeres and Aging

Synthesis at the End of Chromatin: Telomeres and Aging

Review Questions