Instructor

: Yeonshil Park

Lectures

: 41

Students

: 2406

Duration

: 12 weeks
Categories:
* Certificate Courses *
,
* E-Certificate Courses *
,
C++
,
Computer Engineering
,
Computer Science
,
Courses in English
,
Engineering & Technology
,
Machine Learning
,
Programming
,
Python
,
Scripts
Data is the new Oil. This statement shows how every modern IT system is driven by capturing, storing and analysing data for various needs. Be it about making decision for business, forecasting weather, studying protein structures in biology or designing a marketing campaign. All of these scenarios involve a multidisciplinary approach of using mathematical models, statistics, graphs, databases and of course the business or scientific logic behind the data analysis. So we need a programming language which can cater to all these diverse needs of data science. Python shines bright as one such language as it has numerous libraries and built in features which makes it easy to tackle the needs of Data science.
In this course we will cover these the various techniques used in data science using the Python programming language.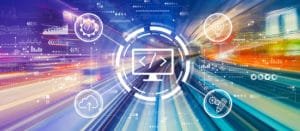 Execute Python Programs
For most of the examples given in this tutorial you will find Try it option, so just make use of it and enjoy your learning.
Try following example using Try it option available at the top right corner of the below sample code box
#!/usr/bin/python

print "Hello, Python!"


Certification
Academy Europe presents high-quality formal diplomas, certificates and e-certificates which are formal proof and recognition of accredited online courses. It shows all student's abilities to learn and achieve high results and is very useful to promote personal career including with CVs, job applications and self improvements.
Samples: Horizantal Diploma – Horizantal Certificate – Vertical E-Certificate
How can you get your certificate at Academy Europe?
You must click "complete" link at the end of every lesson of your course after you finish them.
When you finish all lessons of course, the "finish course" link is going to be active at the end of last lesson.
When you click the "finish course" link, you will finish your course on Academy Europe officially. Then, "certificate" page of you completed course will be automatically active.
You can see and download your certificate online after you click on your "certificate" link.
Audience
This course is designed for Computer Science graduates as well as Software Professionals who are willing to learn data science in simple and easy steps using Python as a programming language.
This course by Academy Europe aims at imparting quality education and training to students.
Academy Europe is dedicated to its students, their specific learning requirements, and their overall learning success.
This course is directed toward a student-centered, independent study, asynchronous learning approach.
After completing this course on Academy Europe, students will get self improvement  and promotion in their careers.
This course is based on at least two learning skills which are provided  to the users through audio & visuals, videos, verbal presentations and articles, all of which are asynchronized with distance education approach.




Prerequisites
Before proceeding with this tutorial, you should have a basic knowledge of writing code in Python programming language, using any python IDE and execution of Python programs.
Before you start proceeding with this course on Academy Europe, we are assuming that you have a good aptitude and can think logically. You should want to try something different.
Ideal candidates for the course would typically possess:
– Discipline and attentiveness
– Ability to conduct research
– Ability to perform tasks with speed, efficiency, and accuracy
– Analytical judgment
– Patience to interpret technical/scientific data
– A willingness to learn, roll up your sleeves and work toward your dream!
– A computer, tablet or smartphone and an internet connection
– Basic computer skills



Python - Data Science Introduction

Python – Data Science Introduction

Python - Data Science Environment Setup

Python – Data Science Environment Setup

Python - Pandas

Python - Numpy

Python - SciPy

Python - Matplotlib

Python Data Processing

Python – Processing CSV Data

Python – Processing JSON Data

Python – Processing XLS Data

Python – Relational Databases

Python – Data Aggregation

Python – Reading HTML Pages

Python – Processing Unstructured Data

Python – Word Tokenization

Python – Stemming and Lemmatization

Python Data Visualization

Python – Chart Properties

Python – Geographical Data

Python – Measuring Central Tendency

Statistical Data Analysis

Python – Measuring Variance

Python – Normal Distribution

Python – Binomial Distribution

Python – Poisson Distribution

Python – Bernoulli Distribution

Python – Linear Regression

Course of Completion