Categories:
* Certificate Courses *
,
* E-Certificate Courses *
,
Advertising
,
Business & Career
,
Communication
,
Computer Science
,
Courses in English
,
Digital Marketing
,
Information Technology
,
Internet
,
Marketing
,
Social Media
,
Web Design
This course is designed to make the audience understand how Facebook can be used as a digital marketing tool. It also explains how Facebook provides insight into its users' interests, likes, dislikes, personal life and buying behavior. In addition, it also provides a large database of information that can be tapped into by your business or organization to generate high quality leads, sales enquiries and traffic to your website.
Free Certification
Academy Europe presents high-quality formal diplomas, certificates and e-certificates which are formal proof and recognition of accredited online courses. It shows all student's abilities to learn and achieve high results and is very useful to promote personal career including with CVs, job applications and self improvements.
How can you get your certificate at Academy Europe?
You must click "complete" link at the end of every lesson of your course after you finish them.
When you finish all lessons of course, the "finish course" link is going to be active at the end of last lesson.
When you click the "finish course" link, you will finish your course on Academy Europe officially. Then, "certificate" page of you completed course will be automatically active.
You can see and download your certificate online after you click on your "certificate" link.
Audience
This course is for those who wish to make or strengthen their stand in the market through Facebook as one of the social media platforms. The audience of this course is expected to have a basic understanding of digital marketing and good communication skills.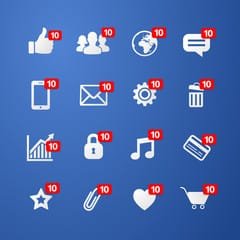 Prerequisites
We assume that you have the creative skills required to help you stand out in the field of digital marketing.

Facebook Marketing - Overview

Facebook Marketing – Overview

Facebook Marketing - Profile Page Setup

Facebook Marketing – Profile Page Setup

Facebook Marketing - Page Navigation

Facebook Marketing – Page Navigation

Facebook Marketing - Ad Options

Facebook Marketing – Ad Options

Facebook Marketing - Ad Management

Facebook Marketing – Ad Management

Facebook Marketing - Page Promotion

Facebook Marketing – Page Promotion

Facebook Marketing - Personal Branding

Facebook Marketing – Personal Branding

Facebook Marketing - Identify Targets

Facebook Marketing – Identify Targets

Facebook Marketing - Quality Posts

Facebook Marketing – Quality Posts

Facebook Marketing - Post Frequency

Facebook Marketing – Post Frequency

Facebook Marketing - Likes Philosophy

Facebook Marketing – Likes Philosophy

Facebook Marketing - Create Fans

Facebook Marketing – Create Fans

Facebook Marketing - Engaging Fans

Facebook Marketing – Engaging Fans

Facebook Marketing - Call-to-Action

Facebook Marketing – Call-to-Action

Facebook Marketing - Video Promotion

Facebook Marketing – Video Promotion

Facebook Marketing - Tricks

Facebook Marketing – Tricks

Facebook Marketing - A/B Testing

Facebook Marketing – A/B Testing

Facebook Marketing - Analytics

Facebook Marketing – Analytics