Instructor

: Erica Sandoval

Lectures

: 18

Students

: 10862

Duration

: 10 weeks
In this course, we will be focusing on the world of "Email Marketing". There are many reasons why email marketing is a must-have in your digital marketing strategy and also reveal how experts have used email marketing as a core tactic in their digital strategies. Through this course, we will learn a lot of things and you can also become a little professional in this field, if you practice what we are going to discuss in this course.
Free Certification
Academy Europe presents high-quality formal diplomas, certificates and e-certificates which are formal proof and recognition of accredited online courses. It shows all student's abilities to learn and achieve high results and is very useful to promote personal career including with CVs, job applications and self improvements.
How can you get your certificate at Academy Europe?
You must click "complete" link at the end of every lesson of your course after you finish them.
When you finish all lessons of course, the "finish course" link is going to be active at the end of last lesson.
When you click the "finish course" link, you will finish your course on Academy Europe officially. Then, "certificate" page of you completed course will be automatically active.
You can see and download your certificate online after you click on your "certificate" link.
Audience
This course by Academy Europe has been designed for all those readers, who want to learn the basics of Email Marketing. It will also help the readers to use emails as an effective tool to advertise their products and services on different online platforms. It is also going to be useful for all those Digital Marketing Professionals, who are required to send bulk mails and to get conversions or revenue for a website or a business.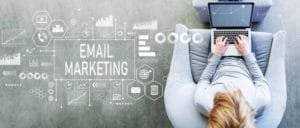 Prerequisites
We assume the readers of this course know how to frame professional emailers and newsletters. In addition, it is going to help if the readers have an elementary knowledge of handling websites, MS-Excel, Notepad and a good command over the language, both verbal and written, for drafting emails.

Email Marketing - Overview

Email Marketing – Overview

Email Marketing - Mailing List

Email Marketing – Mailing List

Organizing Mailing List

Email Marketing - HTML & Text Emails

Email Marketing – HTML & Text Emails

Email Marketing - Newsletters

Email Marketing – Newsletters

Email Marketing - Announcements

Email Marketing – Announcements

Email Marketing - Event Invitation

Email Marketing – Event Invitation

Email Marketing - Content

Email Marketing – Content

Email Marketing - Landing Pages

Email Marketing – Landing Pages

Email Marketing - Spam Compliance

Email Marketing – Spam Compliance

Email Marketing - How to Avoid Spamming?

Email Marketing – How to Avoid Spamming?

Email Marketing - Avoid Being Blacklisted

Email Marketing – Avoid Being Blacklisted

Email Marketing - Service Providers

Email Marketing – Service Providers

Email Marketing - Automation

Email Marketing – Automation

Email Marketing - Metrics

Email Marketing – Metrics

Email Marketing - Follow UPS

Email Marketing – Follow UPS

Email Marketing - Tips

Email Marketing - Certifications

Email Marketing – Certifications