Instructor

: Peter Weisman

Lectures

: 54

Students

: 182

Duration

: 10 weeks
DIN 18181 describes dry lining and partitioning using gypsum plasterboard.
DIN, the German Institute for Standardization, is the independent platform for standardization in Germany and worldwide.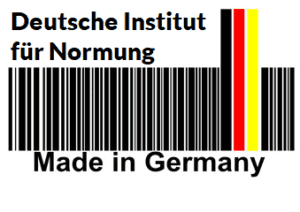 Free Certification
Academy Europe presents high-quality formal diplomas, certificates and e-certificates which are formal proof and recognition of accredited online courses. It shows all student's abilities to learn and achieve high results and is very useful to promote personal career including with CVs, job applications and self improvements.
How can you get your certificate at Academy Europe?
You must click "complete" link at the end of every lesson of your course after you finish them.
When you finish all lessons of course, the "finish course" link is going to be active at the end of last lesson.
When you click the "finish course" link, you will finish your course on Academy Europe officially. Then, "certificate" page of you completed course will be automatically active.
You can see and download your certificate online after you click on your "certificate" link.
What is a standard?
A standard is a document that specifies requirements for products, services and/or processes, laying down their required characteristics. This helps ensure the free movement of goods and encourages exports. Standardization promotes efficiency and quality assurance in industry, technology, science and the public sector. It serves to safeguard people and goods and to improve quality in all areas of life. Standards are developed in a consensus-based process organized by a recognized standards body.
How is a standard developed?
Standards are developed by those who have a need and an interest in using them. The broad participation of all stakeholders, a transparent development process and the consensus principle ensure the wide acceptance of DIN Standards. Anybody can submit a proposal for a new standard. All those interested in a specific standards topic can participate and contribute their expertise. Before a standard is officially adopted, a draft version is published so that the public can make comments. Experts working on a standard must come to agreement on its content. To ensure they reflect the state of the art, standards are regularly reviewed by experts at least every five years.
What is a DIN SPEC?
A DIN Specification, or DIN SPEC, is also a document that specifies requirements for products, services and/or processes. However, in contrast to standards, DIN SPECs do not require full consensus and the involvement of all stakeholders. They are drawn up in temporary bodies called workshops. DIN SPECs are a trusted strategic instrument for quickly and easily establishing and disseminating innovative solutions on the market.
How is a DIN SPEC is drawn up?
The economic success of a good idea depends on how long it takes to reach the market. A DIN SPEC is the fastest way for turning research into a marketable product. Drawn up in small working groups, or "workshops", DIN SPECs can be published within only a few months. These workshops are excellent for exchanging ideas with other market participants. DIN's job is to ensure that a DIN SPEC does not conflict with any existing standards or rules of procedure. With its international contacts, Beuth Verlag sees that DIN SPECs are published and sold to a wide circle of customers. Thanks to the worldwide respect for the DIN "brand", DIN SPECs are effective marketing instruments that are widely accepted by customer and potential partners alike. And any DIN SPEC can be used as a basis for developing a full standard.
Who is DIN?
DIN, the German Institute for Standardization, is the independent platform for standardization in Germany and worldwide. As a partner for industry, research and society as a whole, DIN plays a major role to supporting the marketability of innovative solutions through standardization – be it in topics around the digitization of business and society or in the context of research projects. More than 34,500 experts from industry, research, consumer protection and the public sector bring their expertise to work on standardization projects managed by DIN. The results of these efforts are market-oriented standards and specifications that promote global trade, encouraging rationalization, quality assurance and environmental protection as well as improving security and communication. DIN was founded in 1917 and celebrated its 100 year anniversary in 2017.
What does DIN do?
External specialists use their expertise to develop the content of standards, with DIN's project managers ensuring the entire process runs smoothly. DIN staff members coordinate national, European and international projects, making sure all internal rules of procedure are followed. This increases the global acceptance of DIN Standards.
Is the use of standards mandatory?
No. Anyone can use DIN Standards, and their use is voluntary. They only become mandatory if they are referred to in contracts, laws or regulations. Although the use of standards does not absolve one of liability, as generally accepted rules of technology they do make it easier to demonstrate that one has followed best practices.
Income structure of DIN e.V. 2018
Own income: 60,6 percent
Project fund from industry: 20,3 percent
Membership fees: 9,8 percent
Project funds from the state: 9,3 percent
Audience
This tutorial is designed for anyone who wants to understand the fundementals of DIN Standards and international standardization. Academy Europe does not perform DIN certifications. Academy Europe and its services are not endorsed, approved or certified by DIN. Academy Europe only refers to DIN in a fair. Academy Europe presents courses to its students about  understanding of DIN  standardization.
Prerequisites
There are no prerequisites for this course except a desire to learn about the fundementals of DIN Standards and international standardization.
Introduction to Standards

A brief introduction to standards

How are national standards developed?

How are European standards developed?

How are international standards developed?

DIN Standards

Principles of standards work

Financing standards projects

Committees for Standardization

DIN 18181

Statutes - DIN German Institute for Standardization

Name, registered office, purpose and non-profit status

Dissolution of the Association

Benefits of standardization

Standardization is a key strategic instrument for companies of all sizes.

Benefits for the private sector

Participating in standards work puts you one step ahead

Using standards brings cost savings

Using standards brings cost savings

DIN and international standardization

DIN and international standardization

International standardization

SME Commission (KOMMIT)

Innovation and research

How do standards support innovation? What role do standards and standardization play in research projects? How does DIN promote innovative areas such as smart cities, the energy transition or Industry 4.0? Explore this area of our website to find out answers to these questions and more.

Research funding programmes

DIN and its partners

DIN and its subsidiaries provide comprehensive services for national, European and international standards work. We offer our customers a global network and over 100 years' experience.

Subsidiaries & Associated Companies

Setting standards with DIN

DIN in Europe

EU notification procedure

European standardization regulation

Services

Standards create efficiency, trust and security. Here is an overview of how to use standards and the various services DIN provides standards users.

Platform of the German Committee of Standards Users (ANP)

DIN-TERMinology – Access for the public