Instructor

: Sebastien Crepu

Lectures

: 18

Students

: 10503

Duration

: 10 weeks
Air conditioning (of which refrigeration is an inseparable part) has its origins in the fundamental work on thermodynamics which was done by Boyle, Carnot and others in the seventeenth and eighteenth centuries, but air conditioning as a science applied to practical engineering owes much to the ideas and work of Carrier, in the United States of America, at the beginning of this century. An important stepping stone in the path of progress which has led to modern methods of air conditioning was the development of the psychrometric chart, first by Carrier in 1906 and then by Mollier in 1923, and by others since.
Full air conditioning implies the automatic control of an atmospheric environment either for the comfort of human beings or animals or for the proper performance of some industrial or scientific process. The adjective 'full' demands that the purity, movement, temperature and relative humidity of the air be controlled, within the limits imposed by the design specification. (It is possible that, for certain applications, the pressure of the air in the environment may also have to be controlled.) Air conditioning is often misused as a term and is loosely and wrongly adopted to describe a system of simple ventilation. It is really correct to talk of air conditioning only when a cooling and dehumidification function is intended, in addition to other aims. This means that air conditioning is always associated with refrigeration and it accounts for the comparatively high cost of air conditioning. Refrigeration plant is precision-built machinery and is the major item of cost in an air conditioning installation, thus the expense of air conditioning a building is some four times greater than that of only heating it. Full control over relative humidity is not always exercised, hence for this reason a good deal of partial air conditioning is carded out; it is still referred to as air conditioning because it does contain refrigeration plant and is therefore capable of cooling and dehumidifying.
The ability to counter sensible and latent heat gains is, then, the essential feature of an air conditioning system and, by common usage, the term 'air conditioning' means that refrigeration is involved.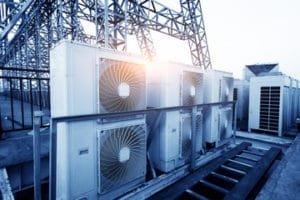 Free Certification
Academy Europe presents high-quality formal diplomas, certificates and e-certificates which are formal proof and recognition of accredited online courses. It shows all student's abilities to learn and achieve high results and is very useful to promote personal career including with CVs, job applications and self improvements.
How can you get your certificate at Academy Europe?
You must click "complete" link at the end of every lesson of your course after you finish them.
When you finish all lessons of course, the "finish course" link is going to be active at the end of last lesson.
When you click the "finish course" link, you will finish your course on Academy Europe officially. Then, "certificate" page of you completed course will be automatically active.
You can see and download your certificate online after you click on your "certificate" link.
Samples: Horizantal Diploma – Horizantal Certificate – Vertical E-Certificate
Prerequisites
Before you start proceeding with this course on Academy Europe, we are assuming that you have a good aptitude and can think logically. You should want to try something different.
Ideal candidates for the course would typically possess:
– Discipline and attentiveness
– Ability to conduct research
– Ability to perform tasks with speed, efficiency, and accuracy
– Analytical judgment
– Patience to interpret technical/scientific data
– A willingness to learn, roll up your sleeves and work toward your dream!
– A computer, tablet or smartphone and an internet connection
– Basic computer skills
Audience
This course by Academy Europe aims at imparting quality education and training to students.
Academy Europe is dedicated to its students, their specific learning requirements, and their overall learning success.
This course is directed toward a student-centered, independent study, asynchronous learning approach.
After completing this course on Academy Europe, students will get self improvement  and promotion in their careers.
This course is based on at least two learning skills which are provided  to the users through audio & visuals, videos, verbal presentations and articles, all of which are asynchronized with distance education approach.
Content

The Need for Air Conditioning

The Need for Air Conditioning

Fundamental Properties of Air and Water Vapour Mixtures

Fundamental Properties of Air and Water Vapour Mixtures

The Psychrometry of Air Conditioning Processes

The Psychrometry of Air Conditioning Processes

Comfort and Inside Design Conditions

Comfort and Inside Design Conditions

Climate and Outside Design Conditions

Climate and Outside Design Conditions

The Choice of Supply Design Conditions

The Choice of Supply Design Conditions

Heat Gains from Solar and Other Sources

Heat Gains from Solar and Other Sources

Cooling Load

The Fundamentals of Vapour Compression Refrigeration

The Fundamentals of Vapour Compression Refrigeration

Air Cooler Coils

The Rejection of Heat from Condensers and Cooling Towers

The Rejection of Heat from Condensers and Cooling Towers

Refrigeration Plant

Automatic Controls

Vapour Absorption Refrigeration

Vapour Absorption Refrigeration

Airflow in Ducts and Fan Performance

Airflow in Ducts and Fan Performance

Ventilation and a Decay Equation

Ventilation and a Decay Equation

Filtration