Instructor

: Erica Sandoval

Lectures

: 7

Students

: 13229

Duration

: 10 weeks
Categories:
* Certificate Courses *
,
* E-Certificate Courses *
,
Business & Career
,
Communication
,
Courses in English
,
Customer
,
Human Resources
,
Journalism
,
Laws
,
Leadership
,
Management
,
Marketing
,
Media & Television
,
People
,
Personal Development
,
Politics
,
Presentation
,
Relationship
,
Sales
,
Self Improvement
All human interactions are a form of communication. In the business world, nothing can
be achieved without effectively communicating with employers, employees, clients, suppliers,
and customers. If you look at the most successful business people in the world, you will see
people who have mastered the art of communication. And that's the difference between being
a good communicator and being an advanced communicator – advanced communication
is a true art form. It requires practice, finesse, and a skill set that goes beyond those that
the average person possesses.
Advanced communication is a true art form, requiring practice, finesse, and a skill set that
goes beyond those that the average person possesses.
Even though communication skills are so important to success in the workplace, there are
many individuals who find that there is a limit to their communication skills and that they
seem to have reached a stumbling block in their progress. They may sometimes struggle to
convey their thoughts and ideas in an accurate manner, making it difficult to reach their
full potential as a communicator, a manager, and a leader of others.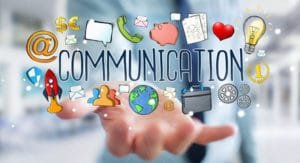 The course of advanced communication skills that we will examine are:
• The communications process including types of input, filters we have in our minds
as we receive the input, how we 'map' the information in our minds once it's
received, and why we should care.
• Internal representation, or the different ways that we each can perceive our world
and the main representational systems we use to do so including visual, auditory,
and kinaesthetic systems, as well as physical indications of which system a person
is using.
• Tips for building rapport that include a six-step process for building strong rapport
between you and others and learning to think 'in the shoes' of another person.
• Tools you can use for advanced communication such as reframing and a variety
of linguistic choices you can make that will help further your communication
with another.
Free Certification
Academy Europe presents high-quality formal diplomas, certificates and e-certificates which are formal proof and recognition of accredited online courses. It shows all student's abilities to learn and achieve high results and is very useful to promote personal career including with CVs, job applications and self improvements.
How can you get your certificate at Academy Europe?
You must click "complete" link at the end of every lesson of your course after you finish them.
When you finish all lessons of course, the "finish course" link is going to be active at the end of last lesson.
When you click the "finish course" link, you will finish your course on Academy Europe officially. Then, "certificate" page of you completed course will be automatically active.
You can see and download your certificate online after you click on your "certificate" link.
Samples: Horizantal Diploma – Horizantal Certificate – Vertical E-Certificate
Prerequisites
The basic knowledge of Graphical User Interface, Object Oriented Programming and software tools and menus are the only prerequisite for this tutorial.
Before you start proceeding with this course on Academy Europe, we are assuming that you have a good aptitude and can think logically. You should want to try something different.
Ideal candidates for the course would typically possess:
– Discipline and attentiveness
– Ability to conduct research
– Ability to perform tasks with speed, efficiency, and accuracy
– Analytical judgment
– Patience to interpret technical/scientific data
– A willingness to learn, roll up your sleeves and work toward your dream!
– A computer, tablet or smartphone and an internet connection
– Basic computer skills
Audience
This tutorial has been intended for the users willing to take the human computer interactions as a next level of study in their career.
This course by Academy Europe aims at imparting quality education and training to students.
Academy Europe is dedicated to its students, their specific learning requirements, and their overall learning success.
This course is directed toward a student-centered, independent study, asynchronous learning approach.
After completing this course on Academy Europe, students will get self improvement  and promotion in their careers.
This course is based on at least two learning skills which are provided  to the users through audio & visuals, videos, verbal presentations and articles, all of which are asynchronized with distance education approach.



1.Communication Fundamentals

Communication Fundamentals (Full Video Course)

2.Communication Basics

Communication Basics (Full Video Course)

3.Communication Process

Communication Process (Full Video Course)

4.Internal Presentation

Internal Presentation (Full Video Course)

5.Building Rapport

Building Rapport (Full Video Course)

6.Tools for Advanced Communication

Tools for Advanced Communication (Full Video Course)

Course Completion